This is the heart of our business. Where we take a piece of military equipment and convert it for its new commercial life. Or inspect, service repair or prepare it after sale to ensure the vehicle meets the customers requirements.
Our workshop and technical teams offer a wealth of experience and technical expertise to advise and build your vehicle to your specification.
We work closely with our customers to adapt ex-military vehicles to civillian use, by offering specialist advice on selection and the required mechanical skills to ensure a successful conversion.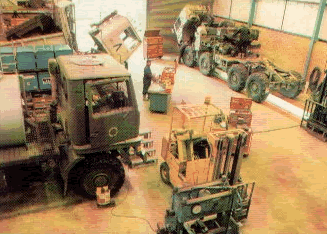 Our purpose-designed and constructed facilities are fully equipped with the latest technology incorporating pressing facilities, glass-bead blasting and many other specialised tools, culminating in our full workshop-length pit and overhead crane.
Highly efficient stores, processing and administration systems compliment our 100% personal service which has always been the centre of all our customer relationships